Industrial shelving systems are modular components that are integrated to create customised storage solutions and designed to withstand high levels of weight and pressure. They are an essential part of any commercial or industrial space. Not only do they provide storage capacity, but they also help to increase efficiency and productivity levels.
With a range of features and options, industrial shelving systems provide users with a variety of options for customising their storage solutions. Knowing the top features of industrial shelving systems can help you make the best decision for your business needs. Here, we'll discuss what you need to know about industrial shelving systems, in particular the Probe Industrial Angle, and the features they offer to ensure you make the best choice for your storage needs.
Adjustability
The ability to choose the height of shelving is a common feature among industrial shelving systems. Whether you are looking for height adjustments for ergonomic purposes or to make room for reaching, this ability makes it easy to customise shelving systems to meet your needs.
With the Industrial Angle, shelving is available in many standard heights and may be supplied cut to your own specification. Shelves can be raised or lowered by 1"(25.4mm) increments making this system extremely versatile This solution offers Probe's widest range of sizes to accommodate your space and is fully compatible with any similar, third party, BSS systems you may already have.
Flexible and versatile
Industrial shelving systems are highly versatile, allowing you to customise the system to fit your specific needs. This is particularly helpful in industries where items are regularly rearranged, as it makes it easy to change configurations. They allow you to easily create a custom storage solution that can be easily modified and rearranged as needed.
Strength & Durability
Industrial shelving systems are designed to be exceptionally strong and durable in order to withstand heavy loads. To make sure the shelving can support your specific needs, it's important to select a shelving system that is rated to handle your capacity.
Probe's Industrial Angle shelving system is quality engineered to provide a shelving system that will give many years of service. Industrial shelving systems are designed to be cost-effective and long-lasting, so you can get a lot of use out of them.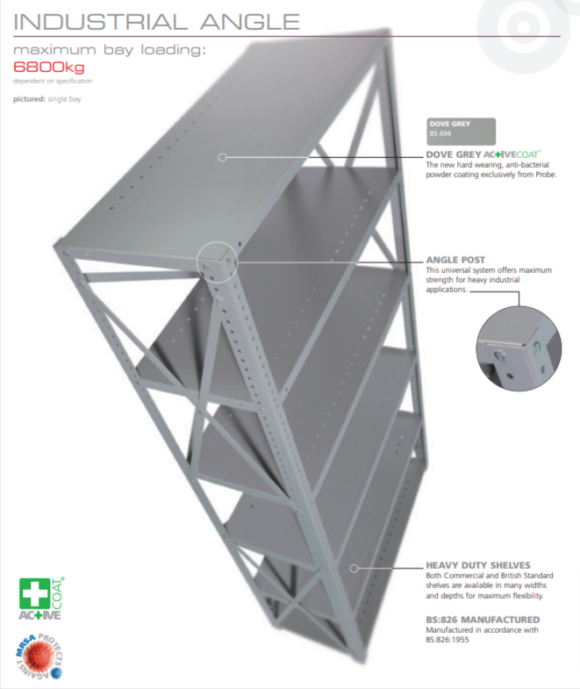 The Benefits of the Probe Industrial Angle
The Probe Industrial Angle shelving system comes with many benefits, including increased efficiency, reduced costs, and improved customer service. In addition, industrial shelving can help improve customer service by making it easier to locate products and expediting restocking times. Industrial shelving systems can also help to increase space efficiency in your business, allowing you to store more products in less space. They are designed to meet any safety compliance standards in your industry. This includes meeting OSHA standards and UL safety requirements.
Conclusion
When it comes to industrial shelving systems, the sky is the limit. Industrial shelving systems give you the ability to create a cost-effective and long-lasting personalised storage solution that will meet your specific needs. These systems are designed to be exceptionally strong and durable, while also being versatile. With so many benefits, industrial shelving systems are a must-have for any business.
If you would like to find out more about the Industrial Angle, or any Probe's other storage solutions, then we would love to hear from you.