The debate on the best type of lockers can be never-ending as there are so many options in the market. However, Probe metal lockers get an edge when it comes to the healthcare industry. The necessities such as hygiene and cleanliness of lockers are important in healthcare sector, unlike any other industry. In terms of material, Probe metal lockers are the clear winner owing to their multiple benefits.  Let's take a brief look at some of the key benefits of Probe metal lockers.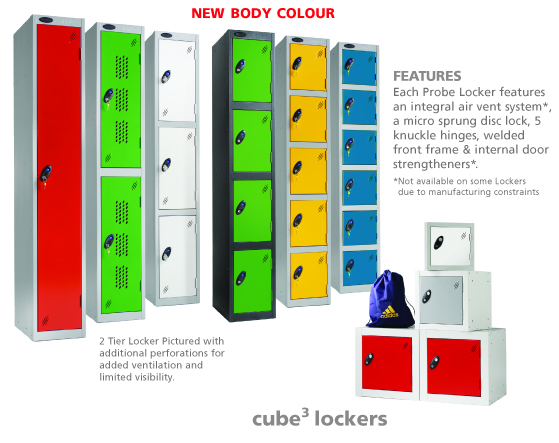 Safety is the priority
Safety is the primary purpose of every locker including Probe metal lockers. Besides important documents related to financing, there are several other documents and equipment that need to be kept safe such as medical records, and valuable medical equipment. Probe metal lockers are available with different types of locks ensuring maximum security. Also, Probe metal lockers are strong and sturdy which makes them difficult to break.
Supports resources sharing
In any healthcare facility, there are many medical equipment and records that need to be shared by different medical professionals. Without a proper storage place, these items can be lost or stolen. Probe metal lockers can be used to store these commonly used items.
Anti-bacterial property
All Probe metal lockers come as standard with ACTIVECOAT® anti-bacterial powder coating which incorporates a silver based anti-bacterial agent. This impedes the growth and migration of potentially harmful bacteria, mold, fungi, algae and more – reducing the risk of cross-contamination from surface to surface. This makes Probe metal lockers especially suitable for the Healthcare Industry where stringent hygiene standards are required.
Safeguarding personal belonging
Doctors and nurses daily change their clothes and keep their personal belongings such as mobile phones and chargers in hospitals which they take back while going home at the end of the day. There also can be other stuff such as PPE kits that need to be stored individually from time to time. Also, Hospitals are frequented by medical staff, cleaning teams, and patients every day. Personal space becomes necessary in such conditions. Probe metal lockers can be allocated to every user to store their personal belonging.
Ease of cleaning and disinfection
Cleanliness and hygiene is the first thing that can be associated with Probe metal lockers. Disinfection is a routine in hospitals and lockers must fall in line. Probe metal lockers are easy to clean and disinfect. They do not need special cleaning equipment or solution. The property of corrosion resistance of these Probe metal lockers also acts in its favor.  They can be cleaned with cleaning solutions and water.
Cost-effective and budget storage solution
Healthcare institutions have high annual expenditure. Huge investment in lockers is not a possibility. Probe metal lockers are very strong and durable. They have a long life which makes them ideal for such spaces. Moreover, every kind of equipment including the sharp and pointed ones can be stored in them without damaging them. Probe metal lockers are very cost-effective as they can be easily maintained and replacement is done after a long time.
If you are looking for Probe metal lockers then you can visit our website. We have an extensive collection of Probe metal lockers. Connect with our experts today to get the best quality lockers that fit your requirement and budget.