Are you searching for the best and safest storage solution for your home, school, or office premises? Lockers are unquestionably a perfect means to keep the belongings of the staff and students in a well-organised and orderly manner. It's a popular storage solution that is adaptable to change and can be repurposed, reused, reconfigured or recycled whenever required. With the growing need, more businesses are looking for modular locker systems which are built from sustainable and cost-effective materials and metal lockers are one of the most popular lines of locker systems.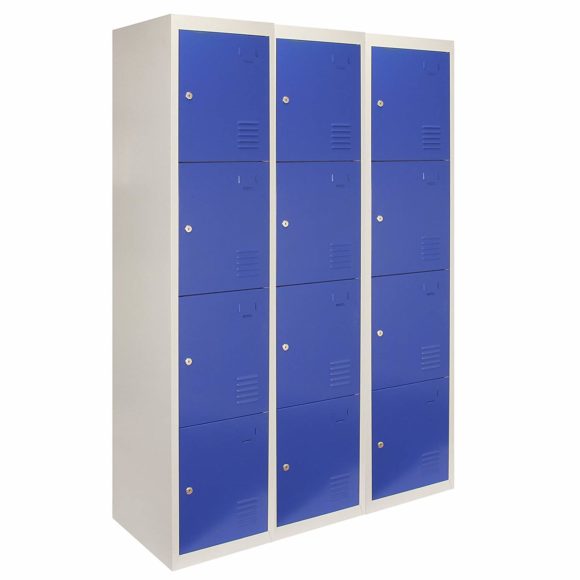 Metal Lockers
Among all, everyone knows that it is a more preferred and ideal storage solution. Metal lockers are not merely limited to gyms and schools now. More and more business owners are installing them at diverse locations such as libraries, corporate offices, departmental stores, medical facilities and fitness centres. Unsurprisingly, they are installed pretty much anywhere that is open to the public or where the staff members need an impassable storage solution for their belongings while working. But, why they are the popular choice among other materials? Let's find out.
More Secure Storage
The first and foremost reason for getting a storage system installed at your place is to provide an end-to-end storage solution to your staff members and students. Metal lockers are by far the most prolific type of lockers available in the market. One of the most relevant benefits of it is better protection and safety against theft and damages. They offer extensive service and utility than other plastic locker systems.
Having a secure metal locker system installed in place can guarantee satisfaction and peace of mind without worrying about the safety of your valuables.
Metal Lockers are Durable
It provides the strength, durability and design flexibility to safeguard against getting obsolete. You do not have to worry about getting it replaced now and then. Unlike conventional locker systems made of wooden and other unstable materials, metal enables faster assembly at the spot and can be easily reconfigured as per requirement.
They are highly durable, low-maintenance and can take an impact without resulting in exterior damages or tear. Go for metal locker with antirust coating that provides an extra layer of defence against water and moisture and makes the locker units last longer.
Cost-Effectiveness
Metal lockers are available in the market at very reasonable prices. Designed for multi-purpose spaces, they are suited to many different environments without incurring additional cost. Due to the use of durable materials, they don't require round the year maintenance and extensive repairs.
Installing metal locker storage system is a one-time investment that renders utility for years to come as metal is not an exorbitant material.
Offer Sustainability
They are made from materials, like steel are 100% recyclable and unlike other engineered wood products, not intended to landfill at the end of its life-cycle. A metal storage unit is mostly resistant to bacteria, chemical, harmful material, as well as fire, adding more life to it.
It is better in comparison to other unrecyclable plastic products in terms of sustainability and is known to survive the test of time.
Add Aesthetic Value
Apart from being highly practical and useful, metal lockers can also help to improve the overall look of the space. These lockers help employees/staff members/students keep their personal belongings in an organised manner, enhancing the aesthetics of the area.
Slim metal lockers take up limited space and help you utilize the available space to the maximum extent. You can choose from the umpteen options available that seamlessly match the interior design of your premises. They are highly-customizable when it comes to colour and design to make your locker room more appealing and aesthetic.
Metal Lockers Are Customisable
Metal lockers units can be uniquely replaced reconfigured or relocated as per your need. These can be smeared with environmental-friendly powder coatings, and locker doors can be perforated with unique custom-designed patterns. You can also fit these with acoustic sound-absorbing material to minimise noise. They are are easily available in various designs, shapes, sizes and colours, so you can customize them accordingly.
If you are looking for a quality locker system that is customisable and can be tweaked as per your business needs, compare all the popular brands available online and decide carefully. You can also check and buy metal lockers from Probe Lockers Ltd to get exemplary services.
Metal Lockers – An Ultimate Storage Solution
So, what are you waiting for? If you are looking for a safe storage space for your premises, metal lockers will permanently serve all your requirements. Research well and look for stores that offer plenty of options in terms of locker compartments, sizes, colours, security features, and layout as per your preference and applicability.
Also, seek additional facilities like robust customer support and home delivery facilities provided by the suppliers for a hassle-free experience before placing the order.