Our offices, sometimes referred to as our second homes, happen to occupy most of our waking hours. Considering we live a huge chunk of our lives in these spaces, naturally, we feel the need to carry certain personal items for our comfort or use. And inevitably, when we leave at the end of the day, we put our valuable belongings away in a locker. This post offers you insight into the main reasons why you need to engage the best locker suppliers in your city.
Office spaces need a variety of lockers for different purposes, from staff lockers to moveable file holders and safes. Besides the range of lockers required, you also need to make sure that your office lockers are strong enough to suffer the wear and tear of everyday life. Continue reading to understand the main reasons why you should choose your locker supplier wisely.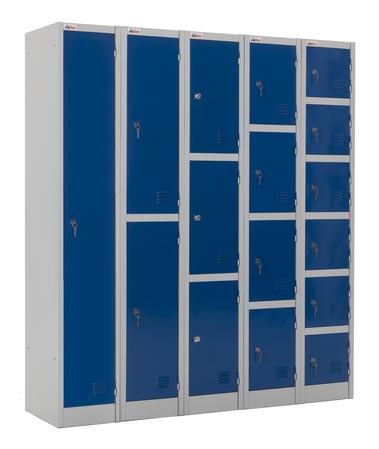 1. Materials used in Production
Several materials can be used in the production of lockers. While metal (particularly steel) has always been the preferred material, lockers are also commonly made of wood, laminate, phenolic, and HDPE plastic. Steel lockers have always been popular and have been used in various facilities for many generations, however, that does not make them the best fit for your facility. If you find yourself good suppliers, they will be able to recommend what you should use based on climate and other important factors. The best suppliers have your interest in mind and will put profits aside to make sure that your product is suited to your needs.
2. Customized to Every Requirement
Recommended locker suppliers will come with the knowledge or expertise to help you identify what works best for you. You certainly do not want lockers that will stand out like a sore thumb which is why experienced locker suppliers will keep the following in mind.
Spacious – lockers need to cater to a range of different demands. Their design must not be cramped and must allow for your items to fit in neatly. A good locker supplier will suggest the design best suited to your needs.

Personalized for every space – Lockers need to be adapted for use in different spaces. Besides optimizing upon how much room they require, they also need to fit certain aesthetic sensibilities. For this reason, your locker supplier is key. They need to be able to understand the aesthetics and provide lockers that fit in with your décor.
Features – As you may be aware, lockers come with a lot of different features. Besides locking systems, you can also have lockers with vents, glass doors or specific paint coating to keep away germs. Based on what your lockers will be used for the locker supplier will recommend the best fit for you. Research and analysis are very necessary in this area and you need a good locker supplier who will be meticulous about the process.
3. Locking Mechanisms
While cam locks are the most commonly used locking mechanisms, you will also find a lock and key systems, analog locks and digital locks. A cam lock is comprised of a stationary cylindrical portion fitted into your drawer or locker; you will often find these in office spaces. Depending on the level of security required, a specific type of lock will be suggested to you and your locker supplier will also need to keep in mind where they are being used. In an office space, especially for staff lockers, there will often be situations where keys are misplaced or lost. Hence, locker suppliers need to provide fittings that are easy to replace in case of emergencies.
4.Durability 
Office spaces have a huge influx of activity during the working day. There are constantly people moving about and all office furniture needs to be adapted in a way that it factors in the wear and tear of use. This is especially true in the case of lockers. People will constantly be opening and closing doors, locking and unlocking their personal storage spaces and when in a hurry, they may not be as careful as required. Lockers need to be the perfect balance between sturdy, functional and sleek allowing for a smooth operation mechanism. As mentioned earlier, the materials used are extremely important and if your locker supplier does not pay keen attention to each fitting then you may suffer unnecessary damage. A good supplier will not allow any compromises on quality but will also help to make sure that the fittings are functional and durable, especially in high-traffic spaces like offices.
The Importance of Office Lockers
Setting up an office space is not an easy task as you need to cater to the requirements of a diverse set of people. Your staff members need to be made to feel comfortable and to make sure of that, providing them their personal space becomes crucial. Over time, lockers have come to become essential in ensuring that employees feel well settled and secure in their work environment.
If you are looking for office locker suppliers in the UK, a popular stop for reliable products is the Probe Lockers. They have a highly skilled team that works closely with their clients to provide high quality and efficient service. Besides speedy delivery, they also make sure that they keep your best interests in mind.