When the word "Lockers" strike our mind, one picture comes crystal clear in front of our eyes, is that of straight lobbied rooms full of lockers. Traditionally, the lockers used to be simplistic yet provided utmost security when it comes to storage. Today, the lockers are available in more designs, patterns and styles and at the same time, giving security too. The contemporary looks of the lockers, have modernized the entire concept of locker systems, they are colourful and there are patterns that match the décor of the room and looks more pleasing to eyes.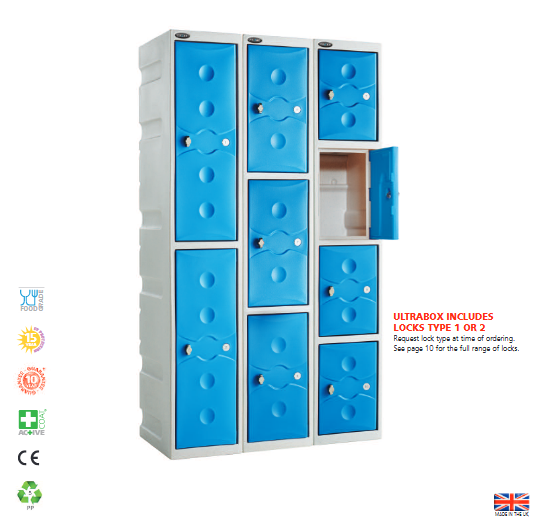 Lockers have evolved largely over a period of time due to its consistent demand and research based newly developed locker systems that are made to order. The metallic lockers are present even today but there is more demand for light-weight Ultrabox Plastic Lockers. These are made up of extremely durable materials, these are alternative materials like molded plastic made from polyethylene. Hence, it is gaining tremendous popularity in different industries and institutions.
Breaking the Myth!
However, the demand for plastic lockers is gaining popularity there are some very common misconceptions surrounding the buyers. First and foremost being, the pricing of the lockers. As a matter of fact, the plastic lockers are the most affordable options as compared to traditional metal lockers. Each type of lockers has its own peculiarity and quality that makes it stand out from the rest. Another bigger misconception is that the plastic lockers are not as much secure as the metal lockers but the fact is that the plastic lockers are fitted with unique modern locker systems.
The plastic lockers are cost effective means to have good and proper storages with locking system. They are long lasting and highly durable materials and doesn't change it shape even with frequent wear and tear. The plastic lockers have enormous strength that makes it a reliable and secured option for storage since they are made of rotational molded polyethylene. The plastic lockers are made with such hard structural integrity that it is difficult to break them or get broken by itself.
Ultrabox plastic lockers for your business!
Every organization or a retail outlet has separate needs for their business. While ready lockers may or may not fit the areas perfectly in the office spaces, the custom lockers provide enormous value for storing valuable documents, things, objects or important projects. Most manufacturers today provide custom designed lockers after knowing the client's requirements to exactly fit in the space given.
The most prominent feature of the plastic locker is that it has ergonomic design and they give utmost satisfaction in terms of storages. It also has mounting channels and drain holes with varied design features. Ultrabox plastic lockers are in tremendous use in business because its provides consistency in storage and helps to keep the shelves as desired.
Why plastic lockers are desirable in Business environment?
Typically, a business is all about creating a brand and it's very important to present your brand in a perfect manner with positive outlook. An organised retail outlet or a de-cluttered space in an office, speaks volumes about the way a business operates. Some of the reasons why plastic lockers are most desirable in businesses are given below –
Different shapes and sizes – Ultrabox plastic lockers are typically available in three sizes i.e., 12, 18 and 36-inch models. The tops of these lockers can be modified depending on the type of the industry, the sloped top is usually meant for industries that has high cleanliness standards and it would not allow the dust to accumulate.

Design features – The locker units are sold as individual parts, hence they can be easily mixed and matched according to the requirements. Along with this, different types of size and shapes are available with good customizable options such as hooks, ID plates, shelves, lab coats, drain holes, etc.

Colour options – The plastic lockers are available in large range of colour combinations, the lockers in brand colour look bright and astonishing giving altogether a different brand image in front of the customers.

Logo of the company – Since the locker shapes and sizes are highly customizable, they can even have the company's brand colours along with these combinations one can even have a company brand logo printed on these lockers.
The Ultrabox plastic lockers are an eco-friendly option since the material used is totally recyclable and at the end of its self-life, the material can be easily shredded for disposing it off. The ultrabox plastic lockers are water resistant hence it offers the best optimum use for any business place. These lockers can be used as wet area clothes lockers, school lockers, swimming pool area lockers, waterproof storage lockers and more.
Salient features of plastic lockers –
Ultrabox Plastic Lockers have many benefits, simply because of its hard composition and versatile nature. In an office scenario, we usually see there are so many processes and departments to be taken care of and again each department is further bifurcated hence it is highly important for them to stay organised for the smooth functioning.
Proper storage facilities help to keep individual lockers for every process or for a particular person, this helps to keep things perfectly organised. Here are some of the most important features of ultrabox plastic lockers:
Plastic lockers do not corrode or catch rust even in moist environments.

They are durable and they do not get any scratch or dents easily.

These lockers are extremely easy on maintenance and takes less time.

The lockers are cost effective solutions resulting to savings in the longer run.

They are highly customised and can be suited as per the requirements such as colors, models or sizes

The plastic lockers are easy to repair, if broken.
The plastic lockers are long lasting and they can be suited well in any type of surroundings since they are leak-proof. This makes it, an ideal solution for wet areas like swimming pools, clubs, food processing units that often require moisture proof cabinets to avoid the dampness. It is one of the best budget-friendly options that provides good safety and reliability over years. They feature an attractive design and style making it the most preferred option for office area and also for close rooms. They are highly sanitized due to the active-coating hence highly recommended for medical industries too, where it is highly necessary to have a sterile environment. The Probe Lockers offers extensive range of all types of lockers, shelves and cabinets with locks that help to maintain the privacy and are easy affordable solutions for the business.