Looking for the perfect storage locker can be quite a challenge. With a variety of locker types available, each with its own distinct features and purpose, selecting the right one can be a daunting task. To find the ideal locker for your needs, it's best to start by assessing your requirements. For those working in environments where clothes tend to get dirty or wet, then Clean Environment Storage Lockers have been specifically designed to meet your needs. In the blog we will discuss the different Clean Environment Lockers for sale and how they will benefit you.
What are Clean Environment Lockers?
Clean and dirty storage lockers are a great solution for environments where separating clothing is crucial. In a regular locker, keeping your day clothes and work uniform apart can be challenging. These storage lockers are divided into two sides with a double coat hook on each side. They also come with a top shelf for storing smaller personal items.
The Uniforms Locker is the same size as a Clean and Dirty Locker, but comes with three convenient shelves located on one side of the partition to store smaller work and personal items. Both of these storage spaces offer employees a practical and hygienic place to store their workwear while providing a secure and private place to store their personal belongings.
Clean Environment Lockers are a very versatile storage solution which can be used for a number of things and in a variety of places. Locations and industries that benefit from these lockers for sale include:
Warehouses
Schools
Changing Rooms
Cloakrooms/Lockerooms
Pharmaceuticals
Food industry
Engineers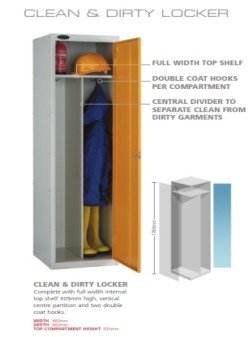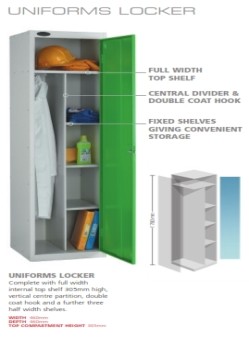 Features of Clean Environment Lockers for sale
With the Clean Environment lockers, you can choose from seven standard door colours to match your decor. Optional sloping tops are available to prevent casual locker top storage, and you can choose from several lock options. These lockers are available with optional stands, select from 150mm High basic stands to raise the lockers off the floor or 400mm high seat bench stands which allows the user to sit down whilst using the lockers.
All Probe Lockers for sale are covered with a special coating called ACTIVECOAT that has anti-bacterial properties. This feature makes them ideal for use in places like hospitals and schools that require high levels of hygiene. The coating also contains Biomaster technology, which helps to prevent the growth and spread of bacteria.
Conclusion
Storage lockers are available in a range of sizes and shapes and provide multiple advantages to users, and the Clean Environment Lockers for sale are the perfect storage solution for many locations and industries. Whether you prefer the Clean and Dirty Storage Lockers, or you looking for a standard storage locker option, we have got you covered. For further information, please contact us at 01244 940792 or email us at info@probe-lockers.ltd.uk.
Tags: lockers, probe lockers