Probe lockers are popular all-rounders for storage solutions across multiple sectors. The Probe brand is a best-seller because of its attractive and user-friendly nature.
At Probe Lockers Ltd, we ensure the use of the best quality materials, made in the UK and manufactured to the highest standards, at the most reasonable prices available in the market. Whether you want to keep items safe and secure at home or in schools, offices, health clubs or fitness centres (to name a few), then we've got what you need.
Below we highlight some of the key features that make Probe Lockers the ideal storage locker solution for you.
Designed and manufactured in the UK
As we mentioned above, all Probe storage lockers are built and manufactured in the UK. This is to guarantee the highest possible quality. All lockers meet BS4680:1996 for Standard duty lockers as well as ISO 9001:2000. They are manufactured in accordance with the OHSAS 18001 Health & Safety certification. While the quality of product is high, we ensure the price remains realistic and practical for our customers.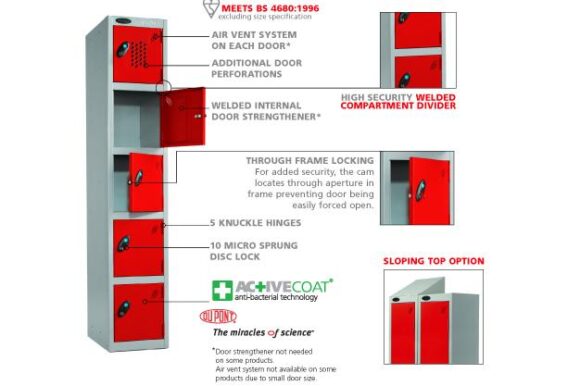 Through frame locking
Probe storage lockers provide through frame locking on each locker door for enhanced safety and reliability. The through-frame locking mechanism is used to prevent the door from being opened easily. The through frame locking is coupled with welded internal door strengtheners and welded compartment dividers for higher security. Probe offer a variety of lock types for you to chose from.
Air ventilation and durability
Probe lockers have an air ventilation system to keep air flowing through the compartment, especially useful when storing work clothing or gym kits, to ensure they dry out and stay dry. Each door has five-knuckle hinges for extra durability. If the door is leaned on or too much force is applied, the door won't easily bend out of shape. When choosing lockers for schools and public areas, this feature is particularly valuable. You will get the best quality components, construction, and finish when you purchase Probe storage lockers.
Active Coat storage lockers
Probe storage lockers are powder coated with ACTIVECOAT anti-bacterial technology, which makes them suitable for use in environments with even the strictest hygiene standards. This is a great benefit for schools and hospitals, where hygiene standards must be rigorously enforced. Biomaster technology in the coating prevents bacteria from multiplying and spreading.
Unlike anti-bacterial sprays and chemical disinfectant which rely on repeated use, ACTIVECOAT contains anti-bacterial agents uniformly distributed throughout the coating, therefore antimicrobial efficacy will continue for the life of the coating.
Choose from a variety of colours and sizes
With Probe Lockers, you can take your pick from a selection of our standard door colours. We are also pleased to announce that we have introduced five fresh autumn door colours to choose from and the choice of black, white or silver body colours. These lockers have all the same quality features as the existing Probe range so you can be sure of a long-lasting storage solution. You can also choose from a variety of storage locker sizes and select a solution to suit your needs.
Conclusion
In this blog, we have highlighted just some of the key features which make Probe Storage Lockers stand out from the rest.
Probe Lockers Ltd is one of the leading providers of storage lockers for a variety of applications. If you need lockers for schools, factories, leisure facilities, supermarkets, offices, hospitals and more, we have the solution for you.
For help or more information on choosing the right storage lockers for you, contact the Probe Lockers team by calling 01244 940792 or email us at info@probe-lockers.ltd.uk