Laptops are becoming a mandatory amenity in many businesses and academic settings. Due to this, investing in a secure storage solution specifically designed to store these devices is becoming more common.
Purchasing the right laptop lockers for your business depends on several factors, such as the number of laptops you have, your security needs and your budget. Fortunately, there are a variety of options for choosing the laptop lockers that are the right fit for your business. This blog will highlight some of the different features, options and important considerations when looking for the best laptop lockers.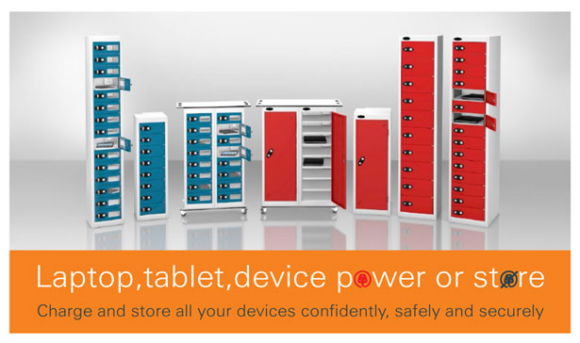 Non-charging laptop lockers
The main decision to make when purchasing laptop lockers is whether you need a powered or non-powered storage solution. We offer a range of non-charging laptop storage lockers which can be either mobile or static, meaning you have flexibility in how and where you use them. Whether you want to store Laptops, Tablets, IT equipment or phones, there is a size and style of non-charging laptop lockers which can provide safe storage for your devices.
Charging laptop lockers
Investing in charging laptop lockers allows you to not only store all your devices confidently, but also charge them in a safe and secure environment. The Probe charging lockers allow you to charge and store your laptops and devices when they are not in use. Power for the chargers is supplied by a single mains cable situated at the back of each locker, and there are perforations present on the back panel which allows heat from electric appliances to escape. All power units have been tested according to BS 6396:2008 standards.
Choosing the size and style of your laptop lockers
The next thing to determine is the size and style of laptop lockers that will best fit your needs. There are many different options for these lockers, and the best choice will depend on your business' requirements. You can choose the size and number of compartments to perfectly fit your designated storage space. The device charge and store lockers we supply are available with white body and red, blue, white, or orange doors; there really is something for everyone!
Laptop Lockers Security
As with all lockers, laptop lockers come with different levels of security and access. The Probe Locker range gives you the ability to either have the storage managed by only key holders or have individual lockable compartments in each locker for individual or multi-users. This means that there is an option for everyone and every setting.
Get in touch
At Probe Lockers Ltd, we offer a comprehensive range of laptop lockers and media towers for a variety of smart devices. Whether you need storage that is powered or non-powered, mobile, or static, there's a solution to suit your needs. Contact us today for more information.
Tags: Laptop Charging Cabinet, Laptop Charging Lockers, Laptop Storage Lockers, Laptop Storage Units