A house is a place where you will find a lot many things that demand a proper place to be stored. Be it the clothes or the accessories or kitchen appliances, you will need a definite storage solution to give place to these things, otherwise, they might end up cluttering your house.
Talking about a definite storage solution, you have many options available in the market. Metal, wood, and plastic are some of the locker varieties that are ruling the market, in terms of materials used. Today, let me walk you through some of the reasons that explain why it will be a good choice to install Metal Lockers inside the house for storing all the necessary things.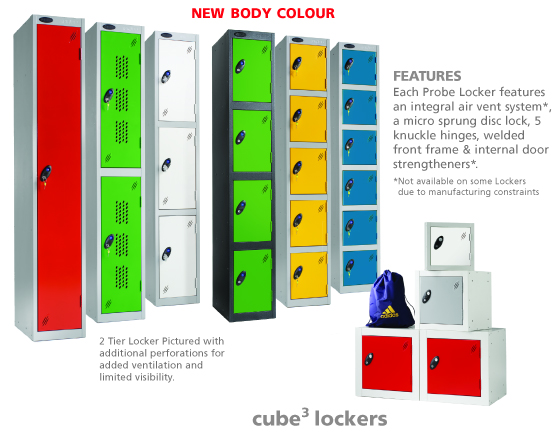 6 Reasons why Metal Lockers Would be the Perfect Choice for your Abode
1. Makes way for a well-organized kitchen
A kitchen is a place where you prepare food and hence hygiene and organization are the two most important qualities that should go hand in hand. Having said this, with a lot many storage options available in the market, metal locker could be the choicest option for your kitchen. It would be one of the best storage solution that caters to both – hygiene and discipline. Talking about hygiene, you get to lay your hands on metal lockers smeared with Active Coat, an anti-bacterial powder. This ensures that all the germs and harmful bacteria remain at bay, avoiding contamination in the kitchen.
2. Instills the quality of safety and security
A house is a place where you will stumble upon valuables that are in constant demand for safety and security. Being an epitome of durability, metal lockers for home that has valuables to be stored, would serve to be the perfect storage option. The elements of safety and security do not only limit to valuables, rather it extends to all other belongings that the house is loaded with. Apart from providing immunity against theft and misplacement, this locker also adds to the decor.
3. A reliable option for protecting your clothes and accessories
Do you fear misplacing your clothes or getting them stained with dust and dirt? A metal locker would be a commendable option to take care of your clothes and accessories. Yes, they do play a significant role in providing a safe shelter against the dirt and dust particles, spoiling the quality of your clothes and accessories. Clothes define who you are and hence they demand proper care and attention over a period of time. With a metal locker, you significantly get to increase the shelf life of your clothes and accessories.
4. A convenient option to store shoes
How about opting for a metal mudroom locker? Sounds interesting, isn't it? A mudroom locker could be best described as the storage solution that is placed at the entrance of the house. Just like other things, your shoes too need a proper place for storage. A metal locker would be the perfect option when it comes to considering a safe and convenient place for storing all your shoes. This will not only make it easy for you, but also for the visitors who will be visiting your abode. As they get to put in their shoes, coats and hats at a safe place they tend to make themselves comfortable in your sweet home.
5. Small metal lockers could be the perfect choice for your kid's room
Metal lockers come in a variety of shape and size. From slimline to small lockers, you will come across a diverse range of option swelling up the world of storage solution. It will indeed be a good choice to invest in small metal lockers, especially for your kids so that they can keep all their toys and belongings in it. This locker will make it convenient for the kids to access the locker for not only storing things but also to bring in a sense of organization to the surroundings.
6. Enhances the beauty of your house
Available in a diverse range of color, pattern, and style, you get to lay your hands on metal lockers that generously contribute to the aesthetics of the surroundings. Bright colored lockers can be used for your kid's storage needs, some metallic or sober colors could be complimented for the Kitchen and master bedroom storage needs. Besides the colors, you could also get to indulge in the different functionality for your different storage requirements. Also, when all the things are kept inside the locker, you automatically make way for a well-disciplined and clean home.
Final Note
The above-mentioned are some of the promising reasons that justify the need to invest in metal lockers for home that resonates discipline and cleanliness. Instilled with the perfect combination of strength, utility and elegance, this type of storage solution is sure to ace up the beauty of your house. So, what are you waiting for? Go ahead and indulge yourself in one of the most appealing and functional metal lockers for your home.
Tags: metal lockers uk