Lockers are small storage compartments used for preserving and storing personal belongings and items which hold a significant emotional currency, like heirlooms perhaps. They are available in different shapes and sizes and are available in materials including the likes of plastic, laminate, wood, and metal. The size of the locker depends on the purpose it is to be used for. For example, for domestic/household purpose, small lockers are sufficient and for commercial purposes, a combination of several lockers bolted together is used.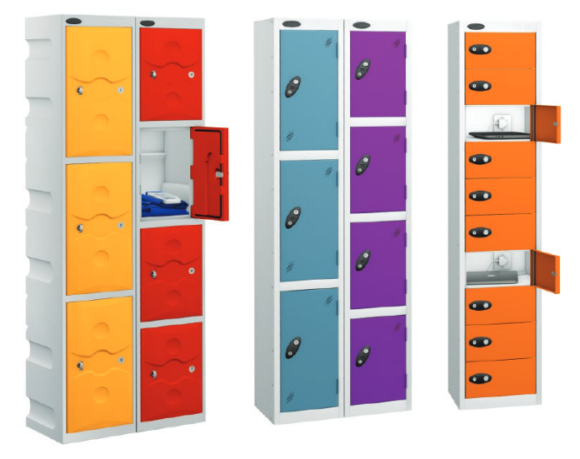 Types of Probe Lockers
Standard Probe Lockers are known for their utter robustness, top build quality, resistance to rigorous usage, etc. Some of the well-known probe lockers are:
Probe Eight Bay Laptop Charging Locker
This particular locker type is primarily used for storing laptops, tablets, etc. With 8 storage shelves and a common access door, 8 laptops can be charged at the same time with individual power sockets. Entire locker comes with the Active Coat anti-bacterial coat to increase the life of the lockers and to prevent the growth of bacteria inside.
These lockers come in a variety of colours and are most suitable for offices, schools, and homes. All the 3 compartments have their own set of keys and air ventilation holes. Made with high-end stainless steel, they are highly resistant to fire, knocks, etc. Active Coat anti-bacterial powder coat finish gives this locker that extra durability and life.
Ideal for securing police armour and uniform, Probe Police Lockers are manufactured to provide a handy storing option to the police personnel. Build with sturdy stainless steel, they are capable of providing service for years. Air ventilation holes are provided for the locker to breathe. To prevent the accumulation of bacteria, fungi, etc., these lockers are coated with Active Coat anti-bacterial powder coat. In these lockers, locking is obtained via micro spring 10-disc key lock.
Probe 4-Door Jade Locker is an ideal find for securing personal belongings in an office, school, or a gym. These lockers are secured with micro spring 10-disc key lock and there are 2 spare keys for each door/compartment. This particular range comes with a variety of locking upgrades for extreme security. The total storage capacity of this them is 160-litre and the entire unit weighs mere 22-kg. Extra durability is provided with Active Coat's anti-bacterial powder coat.
Probe Cube Medical Locker
Probe Cube Medical Locker is used primarily in hospitals to store medical equipment. A single fixed shelf is provided which can hold up to 95 kg of load and with a total weight of 8 kg; this medical locker can be moved from one place to another. This locker comes with 2 spare keys.
These are the various types of lockers manufactured by Probe Lockers Limited, a part of Lockers Shop UK. It is known for manufacturing sturdy and top notch lockers for domestic, commercial, and other purposes. All the metal lockers are coated with an Active Coat. It is advisable to buy storage lockers from Probe Lockers as they have truly established themselves as pioneers in the industry.