Office lockers have been around us for years, and many offices adopt them. The scenario has changed over the years, and we have brought in lockers that can serve every purpose. From size to technology, everything has evolved. In earlier days, lockers were installed in one place, and shifting them was a difficult task. With a cluster of lockers together, the re-location was not an easy job. Many of us still view the lockers from the same point of view. In reality, many things have evolved. Let us look into the four myths around office lockers.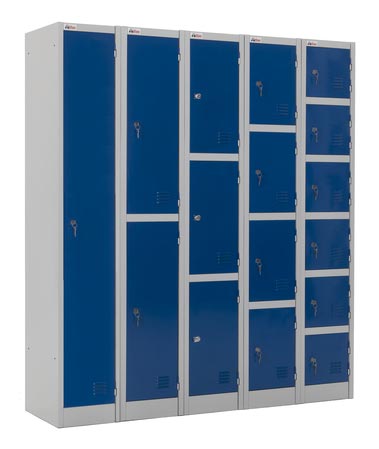 1. They occupy space
Everything has changed about the lockers, including their placement. Physical space is an essential aspect of any office. Therefore, the space is continually optimized for use. For this reason, offices are designing their infrastructure to include lockers. These lockers can be embedded in the sidewalls of the cafeterias or other familiar places. The modern lockers have been designed to accommodate the requirements of the existing work culture.
2. Locking and unlocking is tedious
The conventional lockers used to have keys that needed to be kept carefully. Any loss would result in a fine. This was the reason many employees refused to use them. Office lockers are becoming smart. There are many locking technologies. The lockers come today with an auto-lock function and remote operation. They can be password and keyword-protected. Many other types make locking and unlocking very easy. This also enhances the sense of security in employees, encouraging them to use lockers and stay carefree about their belongings.
3. Extra resources required for management
When the locker keys were lost, or a new locker was allocated in the early days, the employees connected to dedicated management resources. A dedicated resource to manage the lockers is seen as an unnecessary expense. Today the office lockers are intelligent and technologically advanced. Their maintenance is effortless, with high-tech solutions available to find new lockers, allocate them and provide facilities such as 24X7 surveillance. It is all about the features you want in your office. You can visit any locker manufacturer and select the lockers based on the parts.
4. They spoil the décor
The conventional steel lockers with a dull grey look spoiled the office's décor. The modern lockers are available in different colors and materials. They can be decorated in many ways to bring up the required aesthetics. Many companies go for visual customizations of the locker to add brand value. Graphics, colors, messages, and many other things can be done on the lockers to brighten the mood.
Office lockers are eyed as essential today. Offices should explore and get over the myths to install multipurpose office lockers in their office. We deal in office lockers and storage devices. We have a vast range of lockers available with us. Contact us today to get your hands on quality, affordable lockers at an attractive deal.
Tags: office lockers